Estimated shipping time: 9 days
CloudWatcher, watching the sky since 2008.
CloudWatcher advantages:
Full information about sky conditions
With sky quality measurement
Very affordable price
Reliable readings
Easy interpretation of all information
Software available for:

Windows (free)
INDIGO
MAC OSX (developed by Richard Francis, GerSpatial, available from the AppStore at a very reasonable cost).
ASCOM safety monitor and observing conditions drivers available

Very low maintenance
A new version adapted to work with the Hydreon RG-9 Rain sensor

(available from 2021 January)

. The current item, the CW standard version, can not be used with the Hydreon RG-9 Rain sensor, if you prefer the CW Hydreon version, click here.
Extremely reasonable cost of eventual servicing/repairs (*)
Product in constant review and improvement
With the experience and service of Lunatico Astronomía
New screens, better information!
(*) Find here the pice list of the REPAIRS AND SPARE PARTS for the AAG CloudWatcher.
The CloudWatcher includes:
A custom box with a special exterior finish that includes:

Clouds sensor
Rain sensor – two versions: capacitive (this model *) and compatible with Hydreon RG-9
Light sensor capable of measuring the sky darkness quality 

– 

New 2022/2023
Dichroic UV/IR filter for the correct measurement of the sky darkness quality –

New for 2022/2023

Temperature sensor
Relative Humidity, Atmospheric pressure sensor and Temperature sensor (RH & AP versions)
Anemometer (optional external accessory)

Long weather-proof cable (several lengths) with IP68 connector
Relay for observatory opening/closing

*Since May 2.021 the capacitive rain sensor has been improved, with a larger reading area and more sensitivity. 

Graphic of the dichroic UV/IR filter which covers the new light sensor
Let's see them in detail:
► The CloudWatcher box. All the data collected by the AAG sensors and the anemometer are reflected in the computer through their corresponding graphics. These allow a comprehensive and easily understandable measurement of atmospheric conditions:
Clouds sensor

Through an infrared sensor of the AAG CloudWatcher measures the temperature of the sky, and an electronic thermometer measures the internal temperature. Both data are then related by a powerful formula used to determine the existence of clouds. The measuring result is easily read on the graphic "Cloud".

Unlike other detectors, the AAG CloudWatcher allows the user to set the parameters for measurement, and thus adjust the detection of clouds for each place.

Rain sensor

CloudWatcher uses a variable capacitor to determine the existence of rain. In addition, the capacitor incorporates an internal resistance for heating the element, drying it, which allows a constant reliable reading.

Light sensor


From 2022 and 2023 the CloudWatcher incorporates a new extremely sensitive light sensor capable of not only distinguishing day and night, but also measuring the brightness of the background sky in "MPSA" (magnitudes per square arc second). Follow us in the forum for further information.

Temperature sensor


Responsible for measuring the ambient temperature.

Relative Humidity, Atmospheric pressure sensor and Temperature sensor (RH & AP version)
The data from this sensor are supported by the SOLO CW (attached image).

If you want to take a look at our SOLO installed in Hamilton, New Zealand, click here: http://aagsolo.lunatico.es:10800/

Windows program displays the value in the screen, with the dew point, and the data are included in the "Single line data" file (*).

Anemometer (OPTIONAL)

Shows the wind speed.
►The cable connects the CloudWatcher instrument to a PC and it is available in 4 lengths: 3, 5, 7, or 10m. (From 2018/November you also can get the AAG CloudWatcher without cable).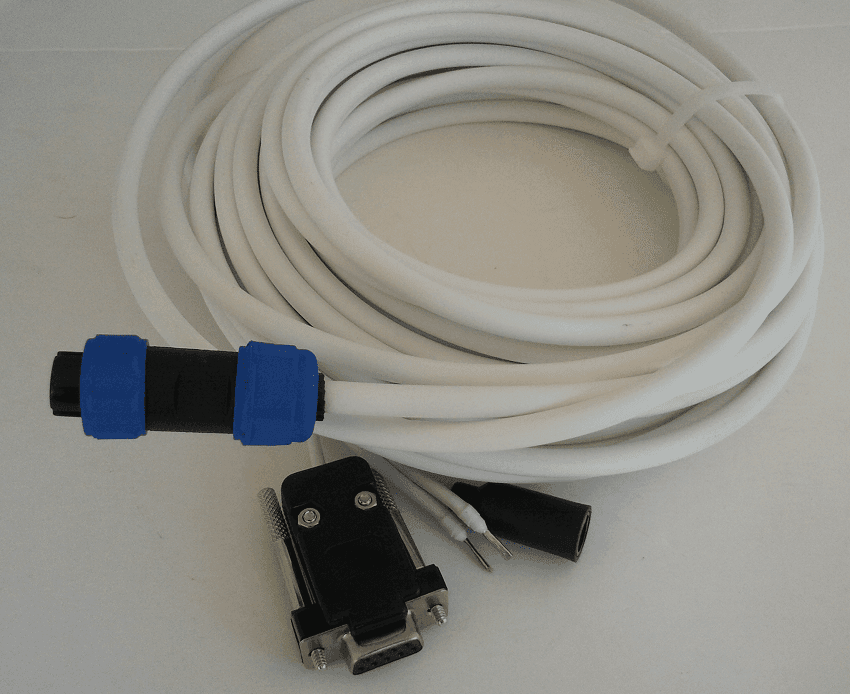 It has a special weather-proof connector, IP68, which allows the easy and comfortable installation of the unit. The cable can be routed conveniently through a conduit, the thicker part of it is only 19mm in diameter.
► Relay (1) for observatory opening/closing, can withstand a voltage of 220 V. But not being a security cable it is advised to connect it to low voltage devices (12 or 24V).
---
Technical specifications:
Power 12 or 15V, current < 1 A
RS232 Serial port (**)
Weight:

180gr.

(no RH & AP version)

205gr.

(RH & AP version)

Size:

130*85*45 mm.

(no RH & AP version)

130*85*60 mm.

(RH & AP version)
(**) USB to RS232 adapter available here.
In addition, the CloudWatcher software incorporates advanced features such as:
Multiple users in LAN (MASTER mode and REMOTE mode operation);
MASTER and REMOTE installations can be independently parameterized;
Sky temperature correction model to account for excessive atmospheric longwave radiation during summer;
All alerts can be defined as sound alerts, with a specific sound file to be played when the alert condition occurs;
Switch control can be disabled and be performed by an external program (suitable to control other equipment);
Allows the electrical constants to be changed by the user;
A complete set of properties/methods for inter-program communications;
Compatible with existing firmware versions 1.xx, 2.xx and future version 3.xx;
ACP, Sequence Generator+, CCDCommander, CCDAutopilot, Prism, CCDAutoPilot, and Maxpilote compatible; plus any ASCOM-compliant software.
With the program, AAG WeatherCentre (***) can combine information from any standard weather station supported by Virtual Weather Station, Weather Display, or Cumulus software.
Several free programs for mobile devices, for example, the one developed by 

Francisco Jesús Corté

s to allow you to receive an alarm on your mobile phone.
(***) The program AAG WeatherCentre is no longer needed since 2017 because the AAGCloudWatcher measures wind speed and relative humidity. It is fully operational but not being updated – offered "as is".
---
CloudWatcher documentation:
---