Estimated shipping time 9 days
ADC (Atmospheric Dispersion Corrector) – sharpens your planetary photos when near the horizon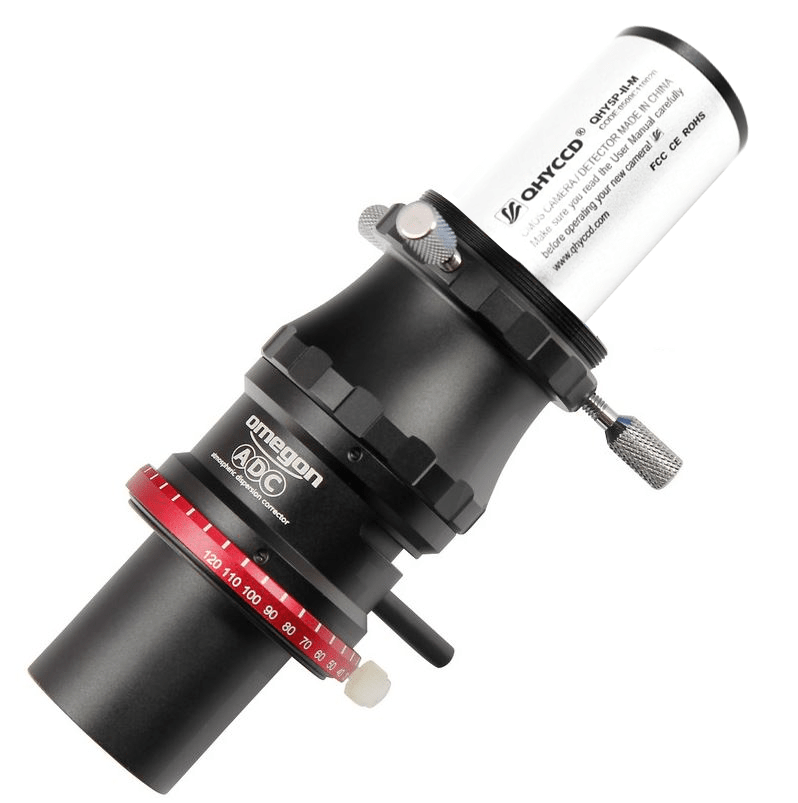 Who hasn't experienced this problem – Saturn is just above the horizon, appearing as a blurred disc in the telescope? A mere blob in the sky. Taking planetary photos is not worthwhile in this situation – where the planet's light is refracted by the dense and thick layers of the atmosphere leading to color fringing. One would normally have to wait hours until the planet rose higher before it could be usefully observed. But sometimes that is not possible anyway due to the orientation of the planet's orbit.
The solution – an ADC! This small component provides a sharp planetary image showing a lot of detail, even when it is just above the horizon.
Advantages:
corrects atmospheric dispersion – less colour fringing, sharper planetary photos and more detail
2.5° adjustment range – two mutually adjustable prisms
ultra-low profile – also suitable for visual observing and bino-viewers
ring scale for adjusting dispersion correction
1.25″ adapter with T-ring and compression ring – for cameras and eyepieces
telescope-side 1.25″ tube with filter threadCorrige la dispersión atmosférica: menos franjas de color, fotos más nítidas de los planetas y más detalles
How the dispersion of the Earth's atmosphere makes objects beautiful
When we look at a bright star on the horizon, we often see it 'twinkling' and flickering in the most beautiful colors – nice for romantics, but bad for astronomers! This is because the light of the star is being heavily refracted by the thick layers of the earth's atmosphere. This phenomenon is called 'atmospheric dispersion' and creates color fringing around astronomical objects and blurs details. The lower an object is on the horizon, the stronger the refraction, with blue refracted much more than red. The Omegon's ADC lets you transform a color-fringed planet into a recognizable object. This job is done by two mutually rotatable prisms – these simulate their own color fringing, but in exactly the opposite direction to the dispersion of the Earth's atmosphere, hence compensating for it.
Three-piece kit – ADC with two adapters and T-thread
The dispersion corrector is a modular unit consisting of three parts
1.25″ socket with T-2 thread
center unit – ADC with prisms
T-2 to 1.25″ eyepiece adapter with additional T-2 thread and compression ring
It couldn't be easier to assemble – the ADC unit fits any telescope with a 1.25″ or T-2 connection and can also be used without an adapter. Another advantage – of course, you can also use the two adapters (that you would otherwise have to buy extra) for other purposes.
Adjustable prisms made of high light transmission BK-7 glass
The two wedge-shaped prisms are made from BK7 glass equipped with a broadband coating to give high light transmission. The ADC unit achieves light transmission of up to 99% in visible light, so you still have an image of the planet that is as bright as normal. The prisms can be moved by 2.5° by means of two small levers – more than on many other models. As a result, you can set a low or very high colour deflection. The result is an even better correction of the dispersion -, especially on the horizon. Another plus – a rotatable ring scale gives you the chance to quickly find the optimal setting for your next observing.
When and why should you use the ADC?
The ADC unit is a special corrector designed for planetary observers and photographers. The planets Saturn and Jupiter will only reach a small elevation above the horizon during the next few years anyway, so without an ADC corrector you would have to spend a lot of time on low-detail, 'mushy' looking planets. Why not avoid this problem and use Omegon's ADC? Professionals have been using ADCs for years, even to compensate when observing at large declinations where there is still a little fringing.
Is it useful for other objects besides planets? Some amateurs use the ADC for observing binary stars. Finding Sirius-B, the white dwarf in the Sirius system, is also easier using an ADC. Now ADCs have also arrived for amateurs.
Grab the chance of taking perfect planetary photos.
Additional features:

front and rear equipped with T-2 thread
30mm optically usable diameter
somewhat UV-transparent (300nm=10%, 350nm=48%, 400nm=94%)
infrared – 780-1000nm, 92% to 70% transmission
made entirely of metal, black anodized
dust cap

Included in delivery

Atmospheric Dispersion Corrector with two adapters
dust caps
operating instructions (English)

Specifications:

Connector (at camera end) T2
Connection (to the telescope) 1,25″
Connection (to eyepiece) 1,25″
Connector (other end) T2
Coating of optical system
Backfocus (mm) 40
Weight (g) 175
Outer material Aluminium
Length (mm) 49
Visual and photograph use
---
Documentation
---