Estimated shipping time: 25 days
QHY 600M PH – Photographic version, and PH LITE. Cooled CMOS Camera.
QHY600PH-M – Mono Photographic version (BFL = 17mm)
QHY600PH-C – Color Photographic version (BFL = 17mm)
QHY600PH-M SBFL – Mono Photographic version with short BFL (BFL = 12mm)
QHY600PH-C SBFL – Color Photographic version with short BFL (BFL = 12mm)
QHY600PH-M L – "Lite" Mono Photographic version (BFL = 17mm)
Don't forget to include the QHYCFW3 filter wheel, and the OAG off-axis guide in your basket!
For the QHY600 PRO versions, contact us at info@lunatico.es.
Lite version!
The new QHY600PH-L (Lite) is a new version of the QHY600 series of cameras.
It is very much like the PHOTO version of the 600 camera with a few exceptions that help to make it the most competitive IMX455 sensor-based camera on the market. Like others in this price range, it uses the standard (consumer) grade, full-frame 35mm format IMX455 sensor, two-stage cooling, and fast USB3.0 interface. Unlike the competition, it has a large 1GB DDR3 image buffer, QHYCCD proprietary, noise reduction technology, a humidity/pressure sensor in the sensor chamber, and multiple read noise modes that are user selectable for lowest possible read noise or highest possible full well capacity. Also, the body has been reduced in length and is shorter than either the PHOTO or PRO versions of the 600 series.
Check the comparison table below to know the differences between the two versions.
The QHY600 uses the latest SONY IMX455 back-illuminated sensor, a full frame (35mm format) sensor with 3.76um pixels and native 16-bit A/D. This sensor is available in both monochrome and color versions. The sensor size is 36mm x 24mm. With the round body design, the QHY600 is an ideal camera to match the image circle of the new generaltion of RASA telescopes.
With the advantage of low readout noise and high-speed readout, CMOS technology has revolutionized astronomical imaging.  A monochrome, back-illuminated, high-sensitivity, astronomical imaging camera is the ideal choice for astro-imagers.  However, for years we have only seen the 4/3-inch, front-illuminated, monochrome cameras (
QHY163M
) with QE of about 60%, and one-inch, back-illuminated, monochrome cameras (
QHY183M
) with higher QE.  Although these sensors are quite good and very suitable for beginners, they are still smaller than the full-frame (35mm format) sensors desired for more serious deep-sky astrophotography.  Also, both of these sensors have 12-bit A/D.  To achieve 1e- of reading noise you must increase the gain and lose some dynamic range in the process, or you use low gain and lose some precision in sampling and greyscale levels.
The new QHY600 is about to change all of this.
The QHY600 ends the days of non-16bit CMOS cameras and it ends the days non-full frame (and larger) monochrome CMOS cameras.
Highlights:
QHY600L
QHY600 PH
IMX455 Sensor Grade
-C (Consumer)
-K (Industrial)
Pixel Size
3.76um x 3.76um
Sensor Type
Back-Illuminated (BSI)
Sensor Surface Glass
AR+AR Multi-Coated
Effective Pixels
61.17 Megapixels –

(9576*6388 effective area. 9600*6422 with overscan and optically black area)

Effective Image Area
36mm x 24mm
Full Well Capacity (1×1, 2×2, 3×3)

Standard Mode : >51ke- / >204ke- / >408ke-

Super Full Well Mode: >80ke- / >320ke- / >720ke-

A/D

16-bit (0-65535 levels) at 1X1 binning
18-bit at 2X2, 19-bit at 3X3, 20-bit at 4X4 software binning

*QHY600 uses the software digital binning for 2*2binning. With digital sum, 2*2binning will be four 16-bit summed then it is 18-bit.

Sensor Size
Full-Frame Format
Frame Rate
USB3.0 Port Image Transfer Speed

Full Frame Size: 4.0FPS (8-bit output)
Full Frame Size: 2.5FPS (16-bit output)
7.2FPS at 9600×3194, 22.5FPS at 9600×1080, 28FPS at 9600×768, 47FPS at 9600×480, 160FPS at 9600×100

Read Noise
1.0e- to 3.7e- (Standard Mode)
Dark Current
0.0022e-/p/s @ -20C 0.0046e-/p/s @ -10C
Zero Amplifer Glow
Yes
Exposure Time Range
40us – 3600sec
Shutter Type
Electric Rolling Shutter
Built-in Image Buffer
1GBytes(8Gbit)
2 GBytes(16Gbit)
Cooling System
Dual Stage TEC cooler:

Long exposures (> 1 second) typically -35C below ambient
Short exposure (< 1second) high FPS, typically -30C below ambient

Anti-Dew Heater
Yes
Telescope Interface
M54/0.75
Optic Window Type
AR+AR High-Quality Multi-Layer Anti-Reflection Coating
Power
40W/100% – 20W/50%  – 13.8W/0%
Back Focal Length
17.5mm (±0.2)
Length (w/dovetail ring) mm
112
112
Weight (net)

* M54/0.75mm center/tilt adjust adapter not included

790g*
850g*
Diameter mm
90
90
DDR3 Image Buffer
1GB
2GB
QHY filter wheel socket
Yes
USB 3.0
Yes
Humidity/Pressure sensor
Yes
Short back focus option
No
Yes
Water cooling option
No
Yes
ACC Socket
No
Upgrade to full PRO option
No
Combo FW+OAG con precio especial
Yes
No
Comparing the IMX455 and KAI11002 35mm Format Monochrome Sensors – See the comparison at https://www.qhyccd.com/index.php?m=content&c=index&a=show&catid=23&id=262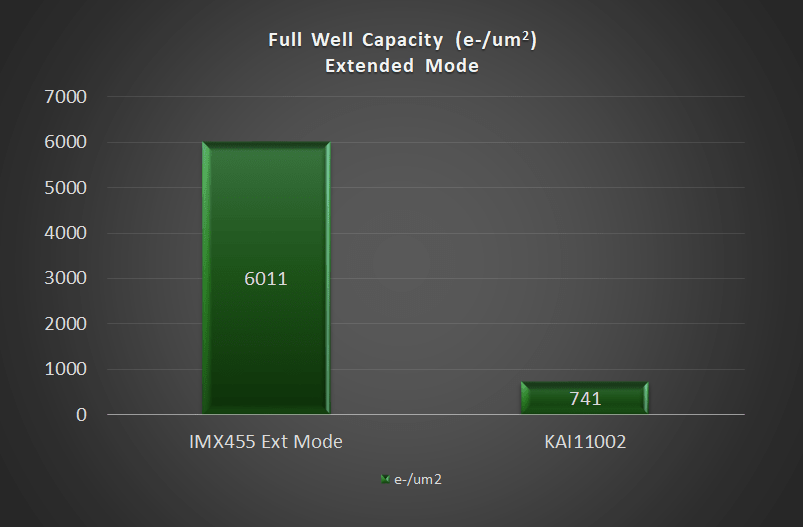 ---
Documentation:
1.

Does QHY600 support hardware binning?
The CMOS sensor itself has some binning function but it should not be the hardware binning (FD binning). And also the binning in the sensor is based on the location of the Bayer color. it means it will binning with the same position of the same color. And for the monochrome QHY600 sensor, it still uses such a position to do binning. So we think it is not a good solution for the monochrome binning.
And since the very low readout noise of the QHY600, so the digital binning may bring more advantages. First, it can increase the full well.  Binning at 2*2 will gives four times the full well. Second, it will increase the AD sample depth. Binning at 2*2 will give an 18bit data range.  For readout noise, the N*N digital binning will cause the readout noise to become  SQR(N*N)= N times. For example, if the readout noise is 1.9e at 1*1 binning. The 2*2 digital binning readout noise will become  1.9*SQR(2*2)=3.8e.
2.

What's the absolutely QE of QHY600?
SONY does not release the official absolutely QE curve of the sensor. There is only a relativity QE graph. (Can be found on QHY600 specification page). But we did some experiment of testing the absolutely QE of QHY600 by comparing it with a known QE sensor. The article can be found at

https://www.qhyccd.com/index.php?=content&c=index&a=show&catid=23&id=261
The current test results show a very high QE, it looks too high. We will find more sensors to do this work again.
3.

How to set the gain, offset and read mode at the first using
For first using, we recommend this value:   readout mode = #0   gain=26   offset=10.  Here is an article for gain/offset setting at

https://www.qhyccd.com/index.php?m=content&c=index&a=show&catid=23&id=22
4.

Meet "Out of Memory" 
Please make sure the QHYCCD SDK had been updated to the last version.   2019.10.8 (V6.0.3) or later. The previous two versions has a memory leak bug and it will cause more memory loss.  And if it is still out of memory, it may be the memory not enough in 32bit memory space. Since the 61mega pixels, the QHY600 requires big memory. The SDK will use about more than twice of the size of the image data (in the mono version it is 120MB per frame. so SDK need about 300MB, for the color version it is 360MB per frame, so the SDK need about 800MB) And the image acquires software need one or more. For the x86 system,  the total memory space is 4GB, many other X86 software will take this space so it may be not enough memory there. We recommend using the x64 software, like the X64 SharpCAP,  X64 N.I.N.A software. If you are using the X86 software. it is best to close other software to reduce the 4GB space

usage.
---