Discontinued Model, we suggest replacing by QHY600M/C or QHY268M/C.
QHY 9 camera, a classic from the manufacturer QHY with which you can obtain spectacular deep sky images.
AAPOD on March 12, 2012.

IC443, Jellyfish Nebula

Telescope: 65mm f/6.5 Quadruplet
Camera: Luna-QHY 9 Mono
Mount: Skywatcher EQ6 pro
Guide: Luna-QHY5 + OAG
Filters: Baader LRGB, Baader h-Alpha

Detail of The Veils. 1st light of the QHY 9 by Ramón Manzano. (Click on the image if you want to enlarge it)

---

North America Nebula, image taken by Manuel Fernández, more details here.
La cámara QHY 9 está basada en el chip KAF8300, con 8 MPixeles en blanco y negro, y un sensor totalmente afianzado que ha demostrado su estupendo funcionamiento. Este modelo, además, cuenta con obturador mecánico, (imprescindible con este tipo de chip), y una refrigeración de gran calidad (hasta 50 grados bajo ambiente).
Main Features:

CCD sensor: KAF8300
Total pixel: 3448*2574 (8.9mega pixel)
Active pixels: 3358*2536 (8.6mega pixel)
Pixel Size: 5.4um*5.4um
FullWell: 25.5Ke-
Imager Size: 17.96mm (H) x 13.52mm (V) 4/3inch
Readout noise: TBD(Appox 10e maybe)
Preview Speed: 3Mpixel/s (3sec download time)
Download Speed: 1Mpixel/s (9sec download time)
Peak QE: 56% @540nm 48%@Ha
Microlensing on chip
ABG: 1000X
16bit ADC with CDS and Preamp
USB2.0 High Speed interface
Build in 32MBytes SDRAM buffer
Support Binning: No Bin, 2*2,3*3,4*4
Communication port to QHY color wheel
Improved 2-Stage TEC cooling -50 from ambinet
Improved Heat Sink For KODAK CCD
Build in Temp sensor and 16bit high presion ADC
DC103 DC adapter & TEC Controller, Regulated
Build in Mechanical shutter for Full Frame CCD
Weight: 510g

The KAF8300 chip.

---

In certain humidity circumstances, it may be advisable to use the silicon tube for QHY cameras. This camera model admits up to two units.

The camera is delivered:
With the necessary cables including cigarette lighter power
With a DC-201 transformer
---
More spectacular sample images.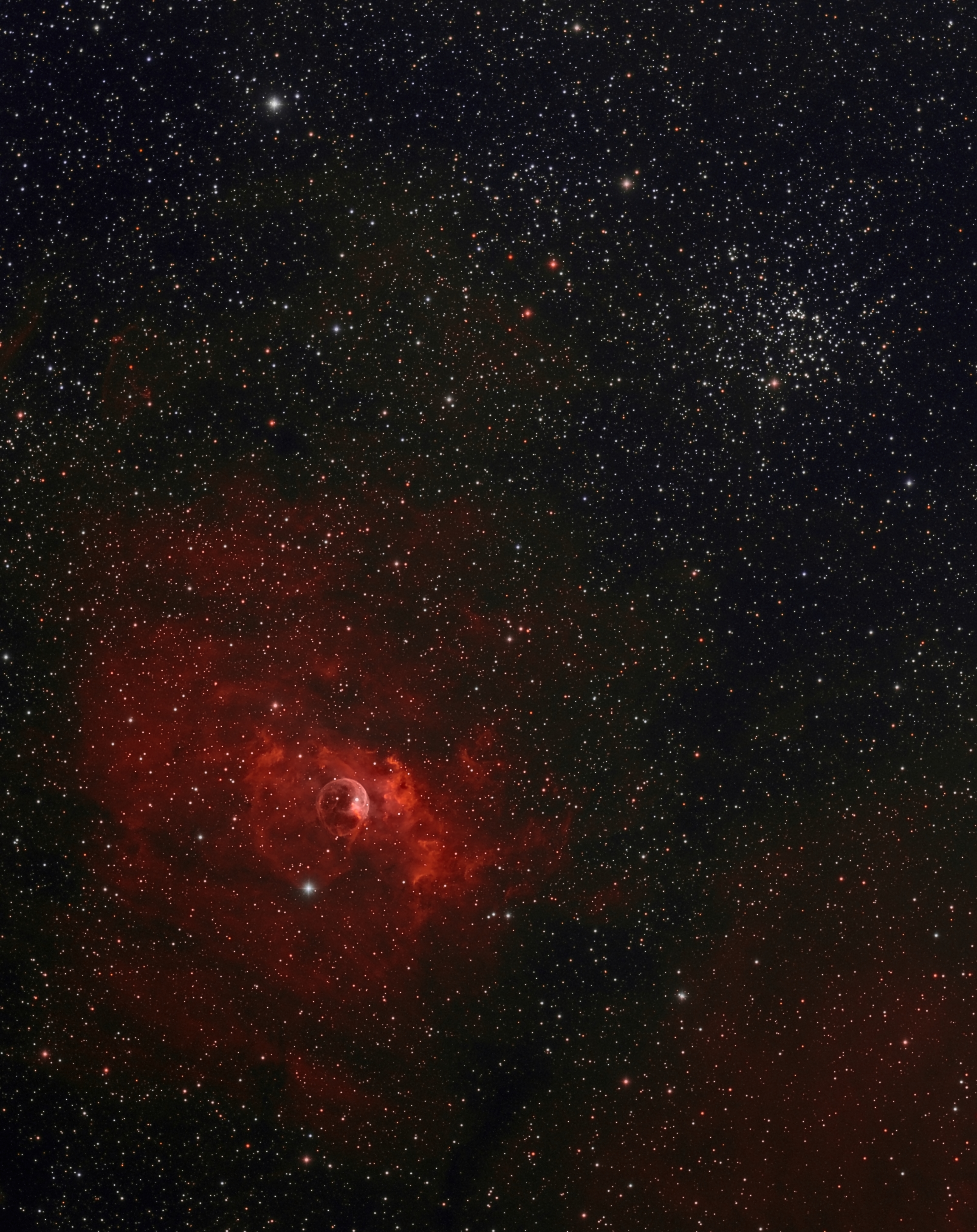 Cassiopeia's bubble with the open cluster M52 (top right). Image taken by Miguel Muro.
EM-200 Temma2, TOA-130F 130 mm, F=744 mm, f/5.7, QHY9, gain 50%, offset 105%, Solución de autoguiado Lunático, focus with Seletek. Seeing: 2.5-3.0 Temp.22ºC, 14/09/09.
---
Documentation:
---